WEDDING DAY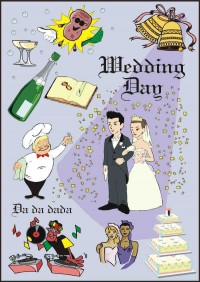 Why not book FUNfORCE to entertain on your
special day!
Background music over lunch with entertainment
for the children during the afternoon!
Cordless microphones for speeches with interlude
music in between!
Activities throughout to keep everyone amused!
A disco and entertainment at the evening reception!
All appropriate music requests are catered for to make
sure everyone is happy!
You can write the play list to make sure you get
everything you want, including your first dance to
make it that perfect occasion!

COST:
Whole day up till midnight £450 + travel
Full evening (5 hours) up till midnight £300 + travel
(travel is £1 per mile from the entertainer's base to the venue)
Graham Andrew – Reepham, Norwich, Norfolk
[Additional hour after midnight +£90 to be arranged at time of booking!]
Set up time is 90 minutes / pack down time is 45 minutes
PLEASE BE ADVISED IT IS NECESSARY FOR FUNfORCE TO UNLOAD & PARK AS CLOSE AS POSSIBLE TO THE SET-UP AREA.
UPSTAIRS VENUES ARE NOT SUITABLE!
.
This package includes:



Everything you need for the perfect day!