WEDDING DAY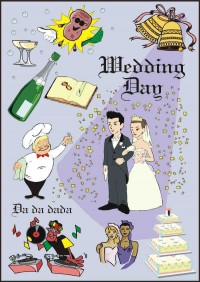 FUNfORCE offers a complete and unique package of
family entertainment for your special wedding day!
Your entertainer will meet and greet your guests on arrival
and then be on hand to offer activities to keep everyone amused
and entertained throughout the entire day.
Supplying background music when required, cordless microphones
if needed for speeches, guest announcements where appropriate and the full disco for the evening there is absolutely no reason to worry.
Your entertainment is covered.
With children present their day becomes an amazingly fun and memorable one. Parents can relax knowing that their kids are being taken care of. This is family entertainment of the highest quality that is difficult not to join in with!
All appropriate music requests are catered for, you can even write your very own play list.
Special attention is given to your first dance to make it a relaxed and perfect occasion!
Please contact Graham Andrew for further information on available activities: grahamandrew@funforce.com / 07802-439654

COST:
Whole day up till midnight £750
(for venues within 100 miles of entertainer's base
Reepham, Norfolk, NR10)
Set up time is 2 hours / pack down time is 90 minutes
PLEASE BE ADVISED IT IS NECESSARY FOR FUNfORCE TO UNLOAD & PARK
AS CLOSE AS POSSIBLE TO THE SET-UP AREA.
(Ideally within 10 metres)
UPSTAIRS VENUES ARE NOT SUITABLE!
.This package includes:
Everything you need for the perfect day!