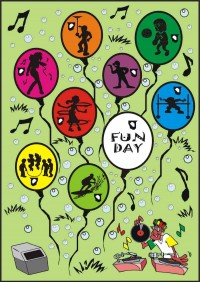 An amazing afternoon of fun & games!
This may be in a garden, at a barbecue, or even in a village hall!
Lots of music and activities to keep everybody
entertained!
This event can include sports day games to add a little
competition to your occasion!
No time to get bored! Fun fun fun ……. all day!
May include the following:
Music games, competitions, treasure hunt, bubbles, balloons,
snow ball fight, snow, skipping, volleyball, hula hoops,
limbo, plate spinning, space hoppers, sports day games,
Crazy Catch rebound game, grass surfing, magic, juggling, unicycling!

COST:
up to 3 ½ hours £210 + travel
up to 5 hours £280 + travel
full day £350 + travel
If a joint party + £10 for each additional person celebrating!
(travel is £1 per mile from the entertainer's base to the venue)
Graham Andrew – Reepham, Norwich, Norfolk
Set up time is 90 minutes / pack down time is 45 minutes
PLEASE BE ADVISED IT IS NECESSARY FOR FUNfORCE TO UNLOAD & PARK AS CLOSE AS POSSIBLE TO THE SET-UP AREA.
UPSTAIRS VENUES ARE NOT SUITABLE!
.
This package includes:



All the advertising posters, tickets or invitations you need to send out!
All prizes for games / competitions!
Give-a-ways for the kids to take home!