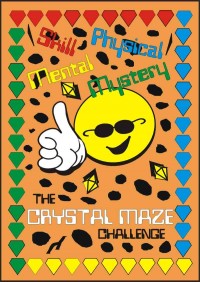 One team tries to crack the crystal maze challenge.
PHYSICAL, SKILL, MYSTERY & MENTAL games all carried out to funky & groovy music.
A time crystal will be won once a challenge is completed successfully.
The more crystals the team collects the longer they will have in the finale to grab the gold & silver tokens.
This can be adapted to suit most ages although the recommended minimum age is 8 years.
The optimum number in a crystal maze team is 20!
This party is action packed and gets extremely intense so
have you got the nerve under pressure?
Take a look at Lorenzo's Crystal Maze Party below.

COST:
3 hours £285 + travel
Prices are based on one birthday child.
Joint parties add £10 per additional birthday child!
(travel is £1 per mile from the entertainer's base to the venue)
Graham Andrew – Reepham, Norwich, Norfolk
Set up time is 90 minutes / pack down time is 60 minutes
PLEASE BE ADVISED IT IS NECESSARY FOR FUNfORCE TO UNLOAD & PARK
AS CLOSE AS POSSIBLE TO THE SET-UP AREA.
UPSTAIRS VENUES ARE NOT SUITABLE!
.This package includes:
All the advertising posters, tickets or invitations you need to send out!
A card and present for the party host or hostess!
Give-a-ways for the children to take home!
..Additions:
Why not add Party Bags or The FUNfORCE Caterer to your event