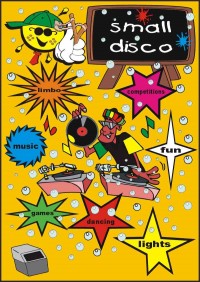 This event is ideal for a smaller party for approx. 40 teens
for just a couple of hours.
This disco combines the latest chart music with games,
competitions and party dances in a constant
entertainment programme leaving no time for getting bored!
This set up includes a bubble machine and disco lights!
It is geared for the teens who would rather join in with
games & competitions rather than those who wanna
dance, dance, dance!
Your FUNfORCE DJ may also conclude the event with a
safe and fun pillow fight!

.COST:
2 hours £200 + travel (mid-week only)
(small set up – Ideal for < 40 kids)
up to 3 ½ hours £285 + travel
(big set up – necessary for > 40 kids)
Prices are based on one birthday child.
Joint parties add £10 per additional birthday child!
(travel is £1 per mile from the entertainer's base to the venue)
Graham Andrew – Reepham, Norwich, Norfolk
Set up time is 60 minutes / pack down time is 60 minutes for small set up
Set up time is 90 minutes / pack down time is 60 minutes for big set up
PLEASE BE ADVISED IT IS NECESSARY FOR FUNfORCE TO UNLOAD & PARK
AS CLOSE AS POSSIBLE TO THE SET-UP AREA.
UPSTAIRS VENUES ARE NOT SUITABLE!
.This package includes:
All advertising posters, tickets, invitations you need to send out!
A card and present for the party host or hostess!
Give-a-ways for the teens to take home!