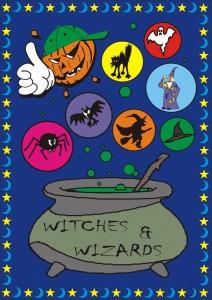 Are you a Harry Potter, Ron Weasley, Hermione
Granger or Moaning Myrtle?
Or are you "somebody who cannot be named".
Wrap up, create and bring your own mummy to life!
Test your patience at apple bobbing!
Stick your head in a bucket of flour for a devil's eye
lolly!
Race against Casper the friendly space hopping ghost!
Try out your broom riding skills at Squidditch!
And watch out for our scary magic show!
Again this party is performed to music, with flashing
disco lights and hubble bubbles!
Works well at night time but can also be during the day!

COST:
up to 2 hours £200 + travel (mid-week only)
Monday – Thursday only, not including bank holidays
For weekend "Mega Party" click here
Prices are based on one birthday child.
Joint parties add £10 per additional birthday child!
(travel is £1 per mile from the entertainer's base to the venue)
Graham Andrew – Reepham, Norwich, Norfolk
Set up time is 60 minutes / pack down time is 60 minutes
PLEASE BE ADVISED IT IS NECESSARY FOR FUNfORCE TO UNLOAD & PARK
AS CLOSE AS POSSIBLE TO THE SET-UP AREA.
UPSTAIRS VENUES ARE NOT SUITABLE!
.This package includes:
All the advertising posters, tickets or invitations you need to send out!
A card and present for the party host or hostess!
Give-a-ways for the children to take home!
.Additions:
Why not add Party Bags or The FUNfORCE Caterer to your event