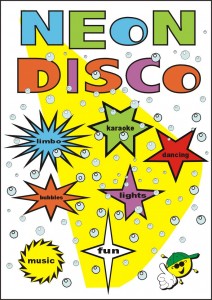 This event will not only blow you away but afterwards it
will leave you with a warm glow! Suitable for 8 years +
That's because everything glows in our neon disco!
Volleyball, limbo, hula hoops, plate spinning, space
hoppers, skipping rope, pillow fights, balloons ……..
everything! Even a glow in the dark snow ball fight!!!
Your FUNfORCE DJ will set up the U.V. lights and then
it's music and mayhem all the way!
Go to town as much as you wish with your own neon
face paints, clothing and decorations!
As long as the venue is pitch black you will shine like a
radioactive lunatic!
So glow on! Glow book yourself a neon party!
.
COST:
2 hours £200 + travel (mid-week only)
Monday – Thursday only, not including bank holidays
up to 3 & 1/2 hours (up to 10:00 pm) £285 + travel
Available anytime – including weekends
Prices are based on one birthday child
Joint parties add £10 per additional birthday child!
(Travel is £1 per mile from the entertainer's base to the venue)
Graham Andrew – Reepham, Norwich, Norfolk
Set up time is 90 minutes / pack down time is 60 minutes
PLEASE BE ADVISED IT IS NECESSARY FOR FUNfORCE TO PARK
AS CLOSE AS POSSIBLE TO THE SET UP AREA.
UPSTAIRS VENUES ARE NOT SUITABLE!
.
This package includes:
All the advertising posters, tickets or invitations you need to send out!
A card and present for the party host or hostess!
Give-a-ways for the children to take home!
Additions:
Why not add Party Bags or The FUNfORCE Caterer to your event