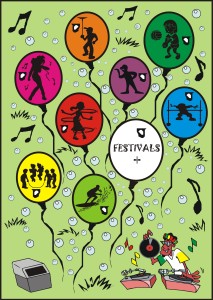 FUNfORCE now offers a non stop package of family entertainment for your festival. There is no need to worry if the weather is amazingly hot or disastrously wet. The package comes with a supersize marquee that we set up before the event so we are ready to go when your gates open. Alternatively if you have your own marquee then FUNfORCE can operate from there.
This means that we can carry out a full programme of entertainment no matter what the weather throws at us!
The programme is set to run for 12 hours a day (non stop).
Ie, from 9:30 am to 9:30 pm with no breaks over your weekend!
If the weather is hot we take the sides off the marquee and everyone is sheltered from the sun. If the weather is wet & windy the sides of the marquee are down and the programme continues.
FUNfORCE requires 12 hours to set up for the event once the marquee is ready, so will arrive the day before the event starts.
An example of what a day programme can consist of is listed below:
9:30 am "Bubbles & Balloons" – billions of bubbles & bundles of balloons
10:30 am "Balloon Modelling Workshop" – we teach you how to make balloon models
11:30 am "Football Frenzy" – soccer dribble, team target time trial, cross bar challenge
12:30 pm "Rocket Launching" – a fun, inflatable javelin style throwing game
1:00 pm "Space Hopper Play" – a low key hour to try out all of our space hoppers
2:00 pm "Hula Hoop Fun" – with over 100 hula hoops to try
2:30 pm "Mega Volleyball" – huge volleyball game for all
3:00 pm "Circus Skills Workshop" – learn to juggle, spin plates & unicycle
4:00 pm "Snow time" – snow ball fun with snow blasts, characters and penguins
5:00 pm "Character photo chance" – selfie with our costume characters
5:30 pm "Skipping time" – the tropical rope is turning, you be jumping
6:30 pm "Anything Goes Show time" – a bit of everything thrown into a one hour show
7:30 – 9:30 pm "Space Hopper Disco" – with over 100 space hoppers to bounce along with
Other activities which can take place on other days include:
Tug of war / Crystal Maze Challenge / Neon Disco / Games & Party Dances / Wacky Races Sports Day / Salsa Class / Magic & Comedy Show / Limbo / Crazy catch game
We have a full sound system to play music for all the activities and fantastic lights for the evening disco as well as character costumes, props and scene sets.
FUNfORCE will also attend a pre event meeting to find out what you require!.
COST:
FUNfORCE Family Entertainment Package
3 Days of Entertainment £1200
For festivals within 100 miles of entertainer's base (Reepham, Norfolk)
There are no other additional costs!
IF REQUIRED – Marquee Hire for the 3 Days £995
Includes set up and pack down
Please Note: FUNfORCE will need to set up one day before the event starts
and pack down one day afterwards
……………………………………………………………………………………………………………………………….
ALTERNATIVE
1 Day FUNfORCE Family Entertainment Package
6 Hours of Performing £600
For festivals within 100 miles of entertainer's base (Reepham, Norfolk)
There are no other additional costs!
Please Note: FUNfORCE will need 3 hours to set up on the same day
and two hours to pack down afterwards
……………………………………………………………………………………………………………………………….

For even more information or to book please contact
Graham Andrew on:
07802-439654 / 01603-871562
Or email grahamandrew@funforce.com