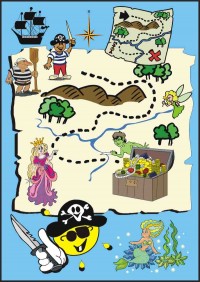 Look out for Captain Hook, Mr Smee and Peter Pan.
Bump into Wendy, Tinkerbell, a little mermaid and a
fairy princess!
Walk the plank, find the treasure, avoid the sharks and
still be back in time for tea!
Dress up as Captain Jack Sparrow or maybe you would
prefer to be the beautiful Elizabeth Swan!
Pose for your pirate photo or sit and smile in your
princess carriage!
Whoever you choose to be you are welcome to board our Jolly Roger pirate ship in search of the best party ever!
It's your fantasy awaiting fulfillment!
.
COST:
2 hours £200 + travel (mid-week only)
Monday – Thursday only, not including bank holidays
For weekend "Mega Party" click here
Prices are based on one birthday child.
Joint parties add £10 per additional birthday child!
(travel is £1 per mile from the entertainer's base to the venue)
Graham Andrew – Reepham, Norwich, Norfolk
Set up time is 60 minutes / pack down time is 60 minutes
PLEASE BE ADVISED IT IS NECESSARY FOR FUNfORCE TO UNLOAD & PARK
AS CLOSE AS POSSIBLE TO THE SET-UP AREA.
UPSTAIRS VENUES ARE NOT SUITABLE!
.This package includes:
All the advertising posters, tickets or invitations you need to send out!
A card and present for the party host or hostess!
Give-a-ways for the children to take home!
.Additions:
Why not add Party Bags or The FUNfORCE Caterer to your event