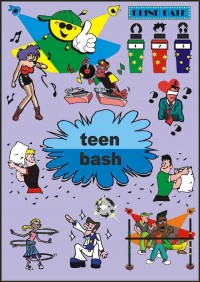 the party with attitude!
Whether you're a biker, skateboarder, footballer, punk,
casual dresser or manic shopper this combination of
events will kick butt!!
A choice that includes volleyball, limbo, hula hoops, the
huge skipping rope, space hoppers, pillow fights, snow ball fights, plate spinning, blind
date and karaoke!
This all occurs within the disco whilst playing all YOUR
favourite dance/club hits!

this is not for the faint hearted!

COST:
up to 3 ½ hours (up til 10:00 pm) £285 + travel
Prices are based on one birthday child.
Joint parties add £10 per additional birthday child!
(travel is £1 per mile from the entertainer's base to the venue)
Graham Andrew – Reepham, Norwich, Norfolk
Set up time is 90 minutes / pack down time is 60 minutes
PLEASE BE ADVISED IT IS NECESSARY FOR FUNfORCE TO UNLOAD & PARK
AS CLOSE AS POSSIBLE TO THE SET-UP AREA.
UPSTAIRS VENUES ARE NOT SUITABLE!
.This package includes:
All the advertising posters, tickets or invitations you need to send out!
A card and present for the party host or hostess!
Give-a-ways for the teens to take home!