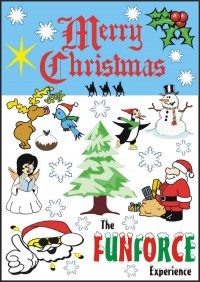 Loads of Christmas fun at this festive time of year!
Billions of Bubbles, An Advent Calendar Treasure Hunt, Make a Snowman Competition, A Mega Snowball fight and loads of Snow!
Learn the 12 days of Christmas Party Dance, play some fab Christmas Dance Games & Sing Comical Christmas Songs with the voice changing microphone.
Add in some Christmas Magic & Comedy, The Turkey Limbo, Happy Hula Hooping and Festive Animal Hoppers.
So many surprises in store to really make you go ………
Ho Ho Ho !!!

COST:
2 hours (small set up) £220 + travel (Mid-week only)
Up to 3 ½ hours (up til 10:00pm with full set up) £300 + travel
Up to 5 hours (up til midnight with full set up) £375 + travel
Full day (up til midnight with full set up) £600 + travel
(travel is £1 per mile from the entertainers base to the venue)
Graham Andrew – Reepham, Norwich, Norfolk

[Additional hour after midnight +£90 to be arranged at time of booking!]
Set up time is 90 minutes / pack down time is 60 minutes
PLEASE BE ADVISED IT IS NECESSARY FOR FUNfORCE TO UNLOAD & PARK
AS CLOSE AS POSSIBLE TO THE SET-UP AREA
UPSTAIRS VENUES ARE NOT SUITABLE!
.This package includes:
All the advertising posters, tickets or invitations you need to send out!
All prizes for games / competitions!
Give-a-ways for the children to take home!