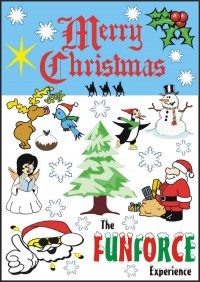 Loads of Christmas fun at this festive time of year!
Join FUNfORCE and make a snowman!
Then throw snowballs before the real snow begins to fall!
(It's all indoors so you don't need your coat or gloves!!)
Listen out for Santa and remember he knows if you've
been bad or good!
Learn the twelve days of Christmas Party Dance!
Join the karaoke choir for some Christmas carols!
This party has loads of music, games, competitions
and much much more!
So many surprises in store to really make you go ………
Ho Ho Ho !!!
COST:
Up to 2 ½ hours (small set up) £200 + travel
Up to 3 ½ hours (up til 10:30pm with full set up) £250 + travel
Up to 5 hours (up til midnight with full set up) £325 + travel
(travel is £1 per mile from the entertainers base to the venue)
Graham Andrew – Reepham, Norwich, Norfolk

[Additional hour after midnight +£90 to be arranged at time of booking!]
Set up time is 90 minutes / pack down time is 45 minutes
PLEASE BE ADVISED IT IS NECESSARY FOR FUNfORCE TO UNLOAD & PARK AS CLOSE AS POSSIBLE TO THE SET-UP AREA
UPSTAIRS VENUES ARE NOT SUITABLE!
.
This package includes:



All the advertising posters, tickets or invitations you need to send out!
All prizes for games / competitions!
Give-a-ways for the children to take home!