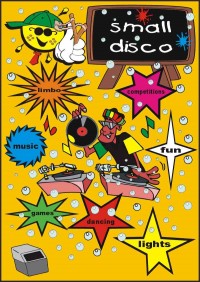 This event has been created for a maximum of two
classes! ie approx. 60 children!
The set up is smaller than the full disco, but still includes
a few flashing lights and a bubble machine!
This small disco combines the latest chart music with
games, competitions and party dances leaving no time for
the kids to get bored!
There is plenty of time for dancing!
Your FUNfORCE DJ will play all the childrens' favourite
tunes as well as organise fun things throughout resulting
in a fun packed disco that the kids will talk about for ages
afterwards!
Fun things may include Limbo, Hula Hooping, Volleyball, Space Hopper Races, Plate Spinning, Snow Ball Fights, Penalty Shoot Out, Party Dances etc.

COST:
2 hours £200 + travel (mid-week only)
(travel is £1 per mile from the entertainer's base to the venue)
Graham Andrew – Reepham, Norwich, Norfolk
Set up time is 60 minutes / pack down time is 60 minutes
PLEASE BE ADVISED IT IS NECESSARY FOR FUNfORCE TO UNLOAD & PARK
AS CLOSE AS POSSIBLE TO THE SET-UP AREA.
UPSTAIRS VENUES ARE NOT SUITABLE!
.This package includes:
All the advertising posters, tickets or invitations you need to send out!
Lollies and colouring pictures for the kids to take home!