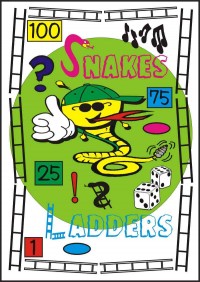 A variety of games, competitions, questions and dares
combine to bring this traditional game to life!
The birthday child is captain of the team and throws the
dice and moves the counter to reach the finish line, but in
the way are many fun obstacles!
Ascend the ladders and avoid the slippery snakes in order
to get to the top corridor where more surprises await you!
Has the team got the nerve to answer the impossible
questions to achieve success?
Or will they slide down the snakes to the pit of shame?
Whatever happens this gripping game will bring you all
together to have a fantastic party!

COST:
2 hours £200 + travel (mid-week only)
Monday – Thursday only, not including bank holidays
For weekend "Mega Party" click here
Prices are based on one birthday child.
Joint parties add £10 per additional birthday child!
(travel is £1 per mile from the entertainer's base to the venue)
Graham Andrew – Reepham, Norwich, Norfolk
Set up time is 60 minutes / pack down time is 60 minutes
PLEASE BE ADVISED IT IS NECESSARY FOR FUNfORCE TO UNLOAD & PARK
AS CLOSE AS POSSIBLE TO THE SET-UP AREA.
UPSTAIRS VENUES ARE NOT SUITABLE!
.This package includes:
All the advertising posters, tickets or invitations you need to send out!
A card and present for the party host or hostess!
Give-a-ways for the children to take home!
.Additions:
Why not add Party Bags or The FUNfORCE Caterer to your event