Graham Andrew started working at the Norfolk & Norwich hospital in December 2015 making weekly visits to the children in the Jenny Lind wards bringing smiles to their faces and
giving them a giggle or two before having their routine check ups and in some cases surgery.
An amazing fund raising project initiated and carried out by Aylsham mum Juliet Waller has resulted in so many children and even parents benefitting from the scheme.
Eastern Daily Press – 23rd October 2015
Aylsham mum's appeal buys "giggle doctor"
to cheer up sick children
at Norfolk and Norwich University Hospital.
(photo) Handing over the cash for a "giggle doctor"
– left to right
Donna Todd, Steve Nicholls (the play specialist), Matron Emma Dolman, Entertainer Graham Andrew, Juliet Waller, Anita Burton with Hannah-Lily, Elly Miller and Annabel Hughes.
Sick children are having smiles put on their faces thanks to a "giggle doctor" provided by a mum's fundraising appeal.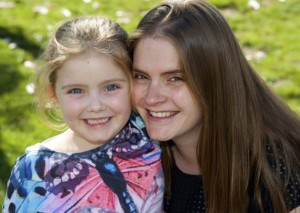 Aylsham childminder Juliet Waller who is behind the group Holding Hands with Our Courageous Children, which raises money to provide "giggle doctors" at NNUH.
Juliet's daughter Gemma was the inspiration for starting the group after going into hospital in March 2014 having been diagnosed with a mass on her ovaries.
Entertainer Graham Andrew will bring fun and magic to the children's wards at the Norfolk and Norwich University Hospital.
The £18,000 cost has been raised by an Aylsham-based appeal launched by childminder and mother-of-three Juliet Waller.
She was inspired after her daughter Gemma was cheered up by a "giggle doctor" at Addenbrooke's Hospital in Cambridge during cancer treatment last April when she was just five.
Her Holding Hands With Our Courageous Children group aimed to raise £10,000 but smashed the total by amassing £25,000.
The £18,200 handed over to the N&N will provide weekly entertainment to young patients on wards and in out patient clinics for the next two years in the Jenny Lind Children's department.
The rest will go to Addenbrooke's children's wards.
Mrs Waller, 36, from Holman Close in Aylsham said: "All we ever wanted to do was raise enough money to give something back to those who supported us during our hardest times and to help other children and their families whilst they face some of the scariest times of their life.
"We are completely overwhelmed by all the support we received and cannot thank people enough for their generosity. We couldn't be prouder of what we have achieved and what we can now provide to others"
Fundraising included a family fun day in Aylsham and Mrs Waller's 72 year old dad, Mike Brackenbury jumping out of a plane, as well as donations.
Her daughter, now six, had a tumour-infected ovary removed. She is now healthy but she gets regular monitoring with scans every four months and blood tests every two months. The latest blood test results have come back all clear.
The N&N sessions will be organised by the Hospital Art's co-ordinator Emma Jarvis in conjunction with the play nurses and Emma Dolman the Children's Matron for the Jenny Lind Children's department.
The fund raising group has now started to raise more money so they can fund a third year of entertainment for youngsters in hospital.
Louise Cook, NNUH fundraising manager said: "Thanks to the family of Gemma Waller and the support group the hospital charity will be able to provide fun and enjoyment to some very sick children."