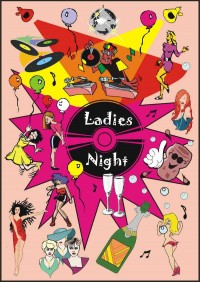 Whether the girls are out on a hen night or they just
wanna have fun, this is a fab event where you can let
your hair down and party party party!
Don't worry about the kids, he's got 'em at home,
so no need for a baby sitter!
Watch out for the dares, maybe a bit of a karaoke disco
and some crazy team games but be prepared to dance
your tights off!
You request it and we'll play it!
From the most recent chart tunes to those fab &
cheesey classics from the 70s & 80s, we've got 'em all!
FUNfORCE gets the party going as only we know how!
It's Ladies Night & the feeling's right – Oh what a night!!
COST:
Full evening (up to 5 hours) till midnight £350 + travel
If a joint party + £10 for each additional person celebrating!
(travel is £1 per mile from the entertainer's base to the venue)
Graham Andrew – Reepham, Norwich, Norfolk
[Additional hour after midnight + £90 to be arranged at time of booking!]
Set up time is 90 minutes / pack down time is 60 minutes
PLEASE BE ADVISED IT IS NECESSARY FOR FUNfORCE TO UNLOAD & PARK
AS CLOSE AS POSSIBLE TO THE SET-UP AREA!
UPSTAIRS VENUES ARE NOT SUITABLE!
.This package includes:
All the advertising posters, tickets or invitations you need to send out!
A card & present for the host or hostess!
All prizes for the mayhem!