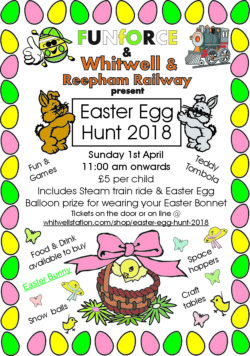 The busiest Easter Party to date saw 109 children take part in two different Easter Egg Hunts at Whitwell & Reepham Station on Sunday 1st April 2018.
1,000 colourful laminated eggs were hidden around the Station in Easter Baskets and all children and parents used treasure maps to locate their individual eggs.
All participants won an Easter Egg for taking part.
The Easter Bunny with his inflatable carrot appeared on two occasions during the afternoon on the train carriage on the side platform helping or hindering the children matching up crazy colourful eggs in a manic melee of madness!
Well done to you all for finding all 300 eggs and we hope you enjoyed the chocolate prize!
There was also a craft table and colourings in The Sidings Bar.
This years' competition was won by …..
Eloise Holmes – aged 5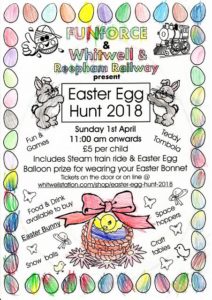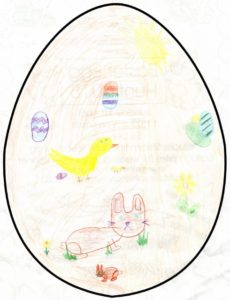 & Tyler – aged 6
We hope you all had a funtastic time. See you next year on Sunday 21st April 2019!