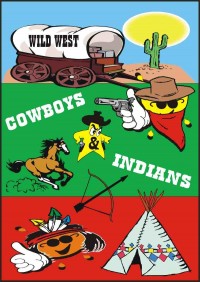 All cowboys & indians are welcome here!
How good are your lassoo skills?
Can you ride "Thunder & Lightning" the wild stallion
space hoppers?
Or can you handle "Silly & Stupid" the comical space
hoppers who are not wild, just silly & stupid!
Are you quick on the draw? Are you a sharp shooter?
Are you the best pillow fighter in the west?
Become the Lone Ranger, Tonto, John Wayne, Woody or
Jessie "The yodelling cowgirl" for the day!
This party again includes music, flashing disco lights and
bubbles!

COST:
up to 2 ½ hours £160 + travel
Prices are based on one birthday child.
Joint parties add £10 per additional birthday child!
(travel is £1 per mile from the entertainer's base to the venue)
Graham Andrew – Reepham, Norwich, Norfolk
Set up time is 60 minutes / pack down time is 45 minutes
PLEASE BE ADVISED IT IS NECESSARY FOR FUNfORCE TO UNLOAD & PARK AS CLOSE AS POSSIBLE TO THE SET-UP AREA.
UPSTAIRS VENUES ARE NOT SUITABLE!
All the advertising posters, tickets or invitations
you need to send out!
A card and present for the party host or hostess!
Give-a-ways for the children to take home!
.
Additions:
Why not add Party Bags or The FUNfORCE Caterer to your event