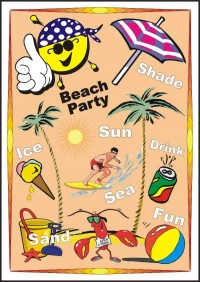 Put on your shorts, Hawaiian shirt & lei and head on down to our beach!
The sun always shines so make sure you adorn a wicked hat and cool shades to!
Test your tropical talents as we hula hoop, limbo and jump the mega skipping rope!
All performed to those fab and cheesey summer hits played by your FUNfORCE DJ!
The party begins with beach volleyball!
You also get a ride on our bouncy donkeys!
If conditions are good you get to ride our surfboard and there is still plenty of time to dance the Macarena!
COST:
2 hours £200 + travel (mid-week only)
Monday – Thursday only, not including bank holidays
For weekend "Mega Party" click here
Prices are based on one birthday child.
Joint parties add £10 per additional birthday child!
(travel is £1 per mile from the entertainer's base to the venue)
Graham Andrew – Reepham, Norwich, Norfolk
Set up time is 60 minutes / pack down time is 60 minutes
PLEASE BE ADVISED IT IS NECESSARY FOR FUNfORCE TO UNLOAD & PARK
AS CLOSE AS POSSIBLE TO THE SET-UP AREA.
UPSTAIRS VENUES ARE NOT SUITABLE!

.This package includes:
All the advertising posters, tickets or invitations you need to send out!
A card and present for the party host or hostess!
Give-a-ways for the children to take home!
.Additions:
Why not add Party Bags or The FUNfORCE Caterer to your event