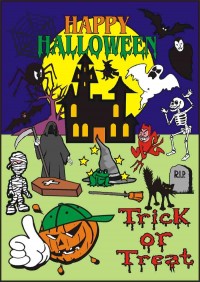 This is a Fancy Dress Party to remember!
It can be as scary as you dare!
Board the ghost train and walk the earth in limbo!
Try to bite the hanging apples, bob for floating apples
and dunk your head in flour for a "Devil's Eye" lolly!
Create your own mummy, then knock her down in
the pumpkin bowling!
Ride the glowing space hopper ghosts, play squidditch,
ditch the witch and watch the scary magic show!
FUNfORCE supplies it all!
You just scream and enjoy!
It's the party to die for!
.
COST:
Up to 2 ½ hours (with small set up)  £200 + travel
Up to 3 ½ hours (up til 10:30pm with full set up)  £250 + travel
Up to 5 hours (up till midnight with full set up)  £325 + travel
(travel is £1 per mile from the entertainers base to the venue)
Graham Andrew – Reepham, Norwich, Norfolk

[Additional hour after midnight +£90 to be arranged at time of booking!]
Set up time is 90 minutes / pack down time is 45 minutes
PLEASE BE ADVISED IT IS NECESSARY FOR FUNfORCE TO UNLOAD & PARK AS CLOSE AS POSSIBLE TO THE SET-UP AREA
UPSTAIRS VENUES ARE NOT SUITABLE!
.
This package includes:



All the advertising posters, tickets or invitations you need to send out!
All prizes for games / competitions!
Give-a-ways for the children to take home!