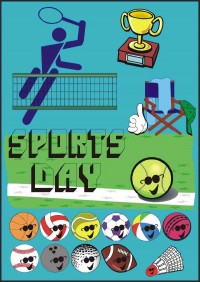 Non stop "wacky races" sporting activities consisting of:
running, soccer dribble, rugby relay, basketball bounce,
hockey slalom, egg & spoon, sack race, three legged race,
skipping, backwards on all fours, under & over, tunnel
ball, tunnel man, stick run-around & shoe find.
Play the "Crazy Catch" rebound ball game!
Have fun with the grab-a-ball challenge!
So become Mo Farah, Jessica Ennis-Hill, Usain Bolt or
any other of your sporting heroes for the day!
This party can be performed indoors or outdoors!
All games are again performed to music!
Ideal for 8 years old and over!

COST:
2 hours £200 + travel (mid week only)
Monday – Thursday only, not including bank holidays
For weekend "Mega Party" click here
Prices are based on one birthday child.
Joint parties add £10 per additional birthday child!
(travel is £1 per mile from the entertainer's base to the venue)
Graham Andrew – Reepham, Norwich, Norfolk
Set up time is 60 minutes / pack down time is 45 minutes
PLEASE BE ADVISED IT IS NECESSARY FOR FUNfORCE TO UNLOAD & PARK
AS CLOSE AS POSSIBLE TO THE SET-UP AREA.
UPSTAIRS VENUES ARE NOT SUITABLE!
.This package includes:
All the advertising posters, tickets or invitations you need to send out!
A card and present for the party host or hostess!
Give-a-ways for the children to take home!
.Additions:
Why not add Party Bags or The FUNfORCE Caterer to your event