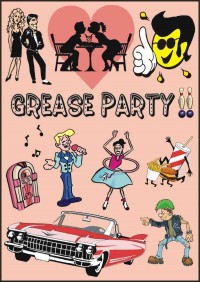 Are you "Stranded at the drive in?"
Are you a "Beauty School Drop Out?"
Are you "The one that I want?"
T-BIRDS & PINK LADIES get together to hand jive,
spin hula hoops and try their luck at ten pin bowling
whilst listening and singing along to all their favourite
Grease tunes!
The highlight has to be the head to head space hopper
race at Thunder Road!
The finale being that slow dance at the Rydell High
School Prom!
So dress to impress at his themed teen bash!

COST:
up to 3 ½ hours (up til 10:00 pm) £285 + travel
Prices are based on one birthday child.
Joint parties add £10 per additional birthday child!
(travel is £1 per mile from the entertainer's base to the venue)
Graham Andrew – Reepham, Norwich, Norfolk
Set up time is 90 minutes / pack down time is 60 minutes
PLEASE BE ADVISED IT IS NECESSARY FOR FUNfORCE TO UNLOAD & PARK
AS CLOSE AS POSSIBLE TO THE SET-UP AREA.
UPSTAIRS VENUES ARE NOT SUITABLE!
.This package includes:
All the advertising posters, tickets or invitations you need to send out!
A card and present for the party host or hostess!
Give-a-ways for the teens to take home!