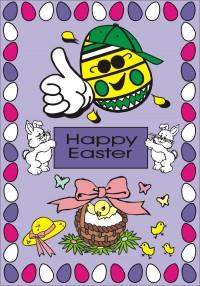 This family fun event is ideal to celebrate the
Easter period!
Games, competitions, dances and fun fun fun!
There will (of course!) be an Easter Egg Hunt along
with tons of surprises! (some rather chocolatey!!)
Lots of balloons and bubbles early on to make
sure everyone has a fabulous time!
All hosted by your FUNfORCE entertainer who will keep
the party going with fun events and activities throughout!
There will be plenty of music and even time for dancing!
Can also include:
Skipping, hula hooping, limbo, plate spinning,
space hoppers and much much more!

COST:
2 hours (with small set up) £220 + travel (Mid-week only
Up to 3 ½ hours (up till 10:00pm with full set up) £300 + travel
Up to 5 hours (up till midnight with full set up) £375 + travel

(travel is £1 per mile from the entertainers base to the venue)
Graham Andrew – Reepham, Norwich, Norfolk

[Additional hour after midnight +£90 to be arranged at time of booking!]
Set up time is 90 minutes / pack down time is 60 minutes
PLEASE BE ADVISED IT IS NECESSARY FOR FUNfORCE TO UNLOAD & PARK
AS CLOSE AS POSSIBLE TO THE SET-UP AREA
UPSTAIRS VENUES ARE NOT SUITABLE!

.This package includes:
All the advertising posters, tickets or invitations you need to send out!
All prizes for games / competitions!
Give-a-ways for the children to take home!