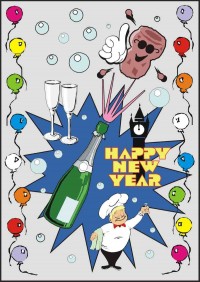 This party is ….. THE BEST EVENT OF THE YEAR !!
Music, lights, dancing, games, prizes, fun & laughter!
Allow FUNfORCE to share your evening with you
and bring the New Year in with a BANG !!
Whether you choose an adult evening or a family night,
the occasion will certainly be one to remember!
It's a fabulous way to share the occasion with family
& friends!
Lots of music throughout the evening with the disco
really getting going before the stroke of midnight!
Then we go live over to Big Ben to jump from this year
into the next!
Then it's dancing all the way into the New Year!

COST:
7:00 pm – 1:00 am £600 + travel
(travel is £1 per mile from the entertainers base to the venue)
Graham Andrew – Reepham, Norwich, Norfolk
[Additional hour after 1:00 am +£100 to be arranged at time of booking!]
Set up time is 120 minutes / pack down time is 60 minutes
PLEASE BE ADVISED IT IS NECESSARY FOR FUNfORCE TO UNLOAD & PARK
AS CLOSE AS POSSIBLE TO THE SET-UP AREA
UPSTAIRS VENUES ARE NOT SUITABLE!
.This package includes:
All the advertising posters, tickets or invitations you need to send out!
All prizes for games / competitions!
Give-a-ways for the children to take home!