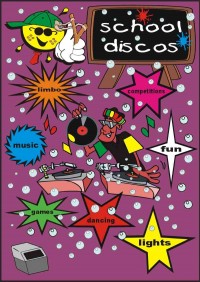 This event can either be one disco or it can be split into
two or even three depending on numbers.
The choice is yours!
It combines all the latest chart music with games,
competitions and party dances leaving no time for the
kids to get bored!
It includes a full set up disco with many flashing lights
and bubbles!
There is plenty of time for dancing with your FUNfORCE
DJ playing the childrens' favourite tunes!
This event will have the children talking about it for days
on end!
.
.COST:
up to 3 ½ hours £285 + travel
up to 5 hours £350 + travel
(travel is £1 per mile from the entertainer's base to the venue)
Graham Andrew – Reepham, Norwich, Norfolk
Set up time is 90 minutes / pack down time is 60 minutes
PLEASE BE ADVISED IT IS NECESSARY FOR FUNfORCE TO UNLOAD & PARK
AS CLOSE AS POSSIBLE TO THE SET-UP AREA.
UPSTAIRS VENUES ARE NOT SUITABLE!
.This package includes:
All advertising posters, tickets, invitations you need to send out!
Lollies and colouring pictures for the children to take home!