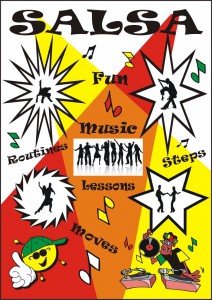 Join your FUNfORCE dance teachers to learn the
steps and some fancy routines of salsa!
Do not worry if you have never danced before!
It's fun and easy to understand and you'll be
dancing within no time at all!
The music is hot and the moves are spicy!
It's New York crossbody stlye on 1.
So you've seen it on T.V. and now it's your turn!
FUNfORCE can throw in some additional fun
and entertainment for ultimate party variety!
The dancing after the class can be mixed to!
So dress to impress!
We'll see you on the dance floor!
.

COST:
Up to 3 1/2 hours (up til 10:00pm with small set up) £285 + travel
Full evening (up to 5 hours) till midnight £350 + travel
If a joint party + £10 for each additional person celebrating!
(travel is £1 per mile from the entertainer's base to the venue)
Graham Andrew – Reepham, Norwich, Norfolk

[Additional hour after midnight + £90 to be arranged at time of booking!]
Set up time is 90 minutes / pack down time is 60 minutes
PLEASE BE ADVISED IT IS NECESSARY FOR FUNfORCE TO UNLOAD & PARK AS CLOSE AS POSSIBLE TO THE SET-UP AREA.
UPSTAIRS VENUES ARE NOT SUITABLE!
.
.
This package includes:



All the advertising posters, tickets or invitations you need to send out!
All prizes for games / competitions!