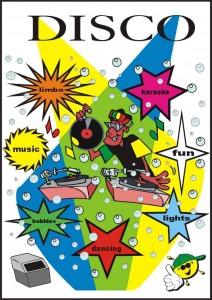 A whole evening of music with the emphasis on
dancing. allowing you to really bop your brains out!
You initially request the tunes to ensure you get the
event you are looking for, then allow your
FUNfORCE D.J. to throw in the other tracks making the ultimate disco experience!
The hits just don't stop from start to finish.
Although there are no games as such the microphones
may get thrown out to entice the brave to sing along in
our Karaoke Disco.
The odd party dance will keep the evening ticking over.
So let's dance, dance, dance!
The floor is now open!
..COST:
Full evening (up to 5 hours) till midnight £350 + travel
If a joint party + £10 for each additional person celebrating!
(travel is £1 per mile from the entertainer's base to the venue)
Graham Andrew – Reepham, Norwich, Norfolk
[Additional hour after midnight + £90 to be arranged at time of booking!]
Set up time is 90 minutes / pack down time is 60 minutes
PLEASE BE ADVISED IT IS NECESSARY FOR FUNfORCE TO UNLOAD & PARK
AS CLOSE AS POSSIBLE TO THE SET-UP AREA!
UPSTAIRS VENUES ARE NOT SUITABLE!
.This package includes:
All the advertising posters, tickets or invitations you need to send out!
A card & present for the host or hostess!
All prizes for the mayhem!