HISTORY
FUNfORCE was created by Graham Andrew whilst working at a private holiday camp on the North Wales coastline. It started as an idea of an amazing children's club incorporating the latest up to date, varied, skilled and totally exhilarating styles of entertainment.
From learning to juggle to performing the latest dance crazes, participating became the name of the game. From getting children simply talking to each other making new friends on holiday to putting the most shy child happily on stage in a talent show and giving them an ovation of a lifetime! However the programme also aims to be as enjoyable to watch as it is to join in with!
Graham then took the idea and developed FUNfORCE into performing at private events bringing the concept to many individuals and groups outside the holiday environment.
Over recent years FUNfORCE has performed to a variety of audiences both in the UK and overseas.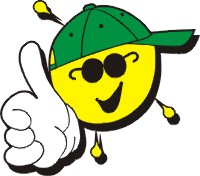 "FREDDIE" – FUNfORCE logo.
Designed by Phil Hart on behalf of Graham Andrew.
FUNfORCE Freddie was originally based on the acid man.
Sun glasses suggest holidays & coolness!
Baseball cap suggests kids & dance!
Thumbs up reflects how we want people to view us!
Freddie is designed to travel through time and many different forms of him have been created and used to depict the various theme parties now available.
As for the colours ……
GREEN – the colour of life and that of youth
YELLOW – the colour of the sun, sand, energy and cheerfulness
WHITE – the colour of peace and also perfection
BLACK – the colour of mystery and also that of the night
SILVER – in recent times we have added silver to our host colours.
Silver is the colour of all FUNfORCE vehicles and the colour that makes us always strive to improve our standard of entertainment.
5 STARS – Symbols

The FUNfORCE logo is sometimes accompanied by 5 stars in black silhouettes on green, yellow & white. These logos are as follows:
JUGGLER – indicates the skill element of the FUNfORCE entertainer!
STARS – indicate how we treat all the children we encounter!
OSCAR – indicates the standard FUNfORCE is striving for!
MUSIC NOTES – indicate the role that music plays in the FUNfORCE programme!
PALM TREE – indicates the holiday scene and a tropical influence!